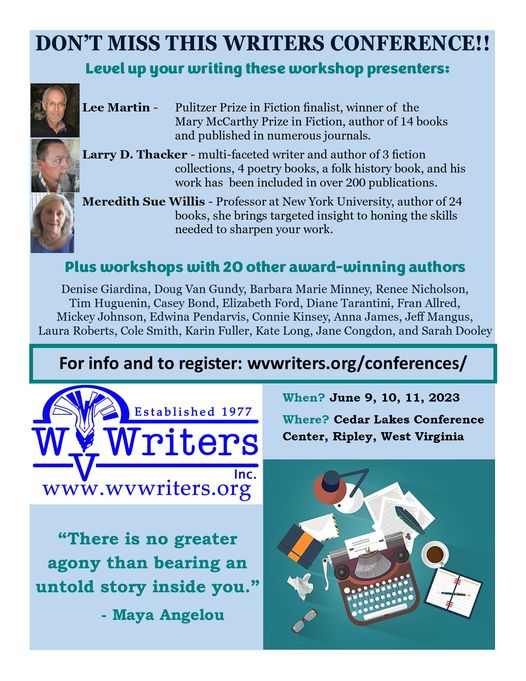 It won't be my first time at the West Virginia Writers Conference, but it will be my first time with a "Presenter" badge. Click on the poster image above to see a more detailed list of workshops.
Join us at Cedar Lakes Conference Center (Ripley, WV) on the second weekend of June (9–11) to learn from folks like Appalachian writer Meredith Sue Willis, Pulitzer Prize Finalist Lee Martin, Director of West Virginia Wesleyan College's MFA in Creative Writing Doug Van Gundy, and America Book Award-winner Denise Giardina (author of one of my favorite novels, Storming Heaven).
I will be presenting two of my own workshops and sitting on a panel, details below:
Okay, I Wrote It… Now What?
You've been to countless critiques and craft workshops. You've carved and you've whittled and you've polished the manuscript until you're sick of looking at it. It's finally ready for publication! How exactly does that happen, again? If you're bewildered by conflicting advice about cover letters, manuscript formatting, and submission etiquette, then don't miss this. Timothy will share his strategies and tips on maximizing your chances with editors, finding magazines and anthologies to submit to, and keeping track of all your submissions. This presentation will focus primarily on short fiction submissions, though some content may be relevant for poetry, nonfiction essays, and longer manuscripts.
Build-A-Blog Workshop
Need a website, but have no idea where to start? Running on a shoestring budget—or maybe skip the shoes altogether? Join Timothy as he walks through setting up a free WordPress website/blog in this live demonstration. For absolute beginners, no coding or design skills required!
Panel: Programs to Expand Your Writing
Panelists will discuss various the pros and cons of various software programs. These include Scrivener for research, organization, and formatting, mailing list services like MailChimp and others, and digital storytelling tools such as We Video and ClipChamp.
Go to https://wvwriters.org/conferences/ to learn more about the other presenters and their workshops, as well as links to registration. Important note: Cedar Lakes Conference Center requires separate registration from the conference programming itself. If you've only filled out one form, you haven't gotten it all squared away yet! You need to fill out and pay for the WV Writers Conference here, and then print and mail in this form with payment for lodging/meals at Cedar Lakes Conference Center. It's ridiculous, I know. But get that annoyance behind you and then we'll all have a good time this June, make some new writer friends, and maybe learn a little bit of something while we're at it.