New Year, New Ewe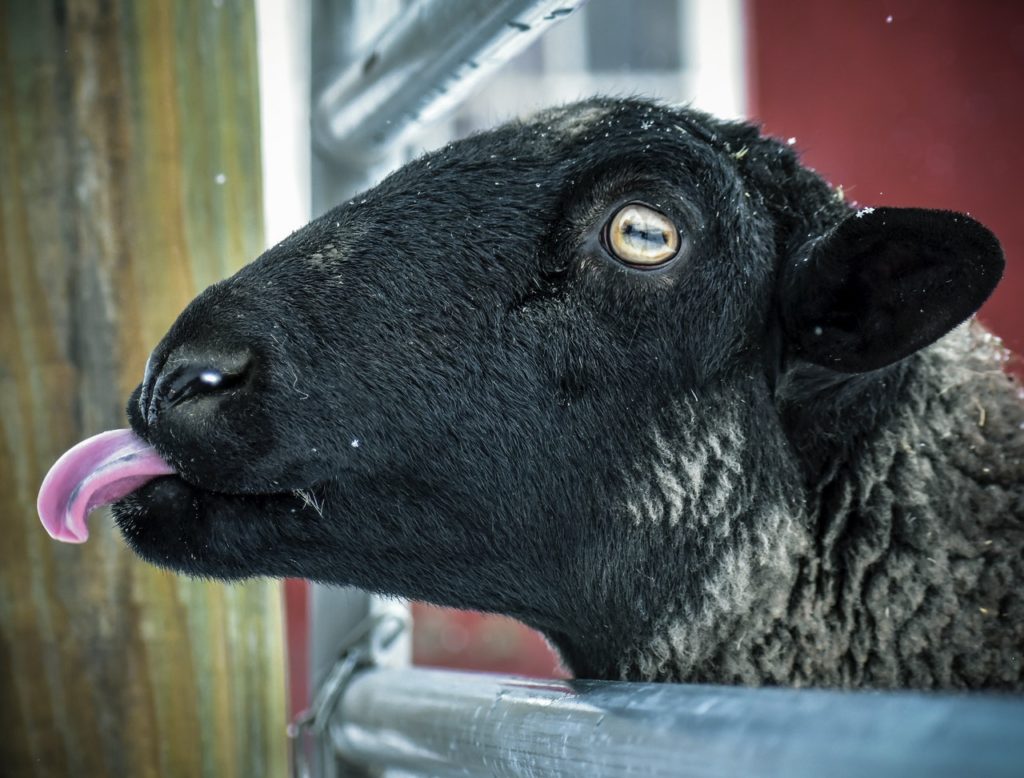 No, I didn't really buy a sheep, much to my wife's dismay I'm sure. I just can't resist a bad pun, even if it has nothing to do with my life.
Now is when I review the previous year and make some goals for the next.So, here we go.
2021 review
First, let's look over my 2021 goals and see how I did:
Finish Garth on the Hearth – Yes!

Write another middle grade book – Not really.

Write another adult novel – Yes!🌼🦗👑🌼

Maybe write a screenplay? – Nope.

Write more short stories – Unfortunately, no.
Not a big year for me in terms of amount of completed work. While I did finish Garth on the Hearth, a big chunk of it was already written by January. And though I did start on another middle grade book this year (Gobbler of Fire), it's hardly much to speak of (less than 1,000 words), and I've been in a bit of a funk lately and haven't worked on it for a while.
I did, however, write another adult novel, which I wasn't even sure I could do when I was putting together my goals. That spring, I had an idea which became The Cricket King, a book I am super proud of and very antsy (get it?) to find an agent for. I finished the first draft up by July, then had it ready for queries & submissions by October. Since then I've been steadily going down my list of potential agents. So far I have one full manuscript request for it, but I think agents work pretty slowly, so it's still relatively early on in the querying process. (In other words, I can still torture myself with hope).
If you recall, I was kind of half-interested in maybe writing a screenplay, but not super committed, which is great, because I didn't do it and therefore am not disappointed in myself.
What I am rather disappointed about, though, is that I didn't even write another short story in 2021. I think I really only need one to three more good short stories until I have enough to put together my own collection, something I've always wanted to do. But I just really haven't had much inspiration, honestly. After The Cricket King, I have not had a lot of ideas. But I know story ideas will come again, probably when I least expect it. And I don't need help, please—as much as you think "that would be a great story you should write" is helpful, it almost never is. The idea almost always needs to come from my own head or it won't work right for some reason.
Before editing, I think the first major draft of The Cricket King clocked in around 80-thousand-something words. In the finished version that exists now, it is at 78,300, which wasn't quite my goal, but it's still a respectable novel, and I believe is the right length for this particular story. Garth on the Hearth also fell short of my goal for it. I was hoping for over 20k, and the current draft is at 18,900 words. But again, I really couldn't do much more with it, and I think I did a pretty good job for my first try at writing a fun, and creepy kid's book.
For 2021's total word count, it is really hard to say. Like I mentioned, I think at least half of Garth on the Hearth was written before January 1. But if I give myself that half, my total word count is around 87,750. Now, I actually wrote more words than that, as the first for both books exceeded their current word counts. But compared to 2020's 100k words, it's a decline in productivity. But hey. I really like the stuff I did write. So I'm trying not to be too hard on myself.
A modest year for producing work, and even moreso for actual publications. Only two of my short stories were published in 2021, and one of those as a reprint.
In February, after a bit of a delay, Dim Shores Presents Vol. 2 was released, which contained my story, "AV_NEST.CASEFILE," an X-Files-y weird horror story with a lot of birds in it.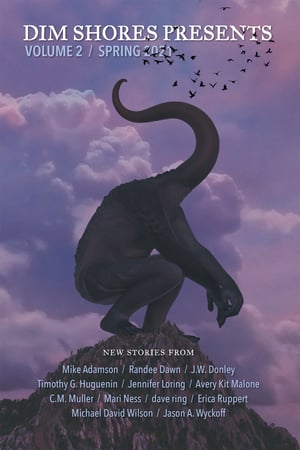 Feels like something's missing from? It is. Schafer was supposed to be published by now—in 2020, in fact. Another disappointment. I will have an update soon. I know I keep saying that, but really.
Camp Necon was once again delayed due to pandemic concerns. Registration again rolled over to 2022 (if it happens). I'm not holding my breath but I will be extremely glad to attend as soon as they do have it again!
WV Book Festival and Lewisburg Literary Festival were also cancelled.
I read some pretty good books in 2021, though. Highlights include three Raymond Chandler novels (The Big Sleep, Farewell My Lovely, and The High Window), Don't Look Now by Daphne du Maurier, To Have and Have Not by Ernest Hemingway, The Good Earth by Pearl S. Buck, and Parnassus on Wheels by Christopher Morley. My favorite read of 2021, though, was the Bram Stoker Award(R)-winning The Only Good Indians by Stephen Graham Jones. Absolutely devastating, and fully deserving of its acclaim. Among my more disappointing reads are I Have No Mouth and I Must Scream by Harlan Ellison and An Event in Autumn by Henning Mankell.
I almost forgot—I won a contest!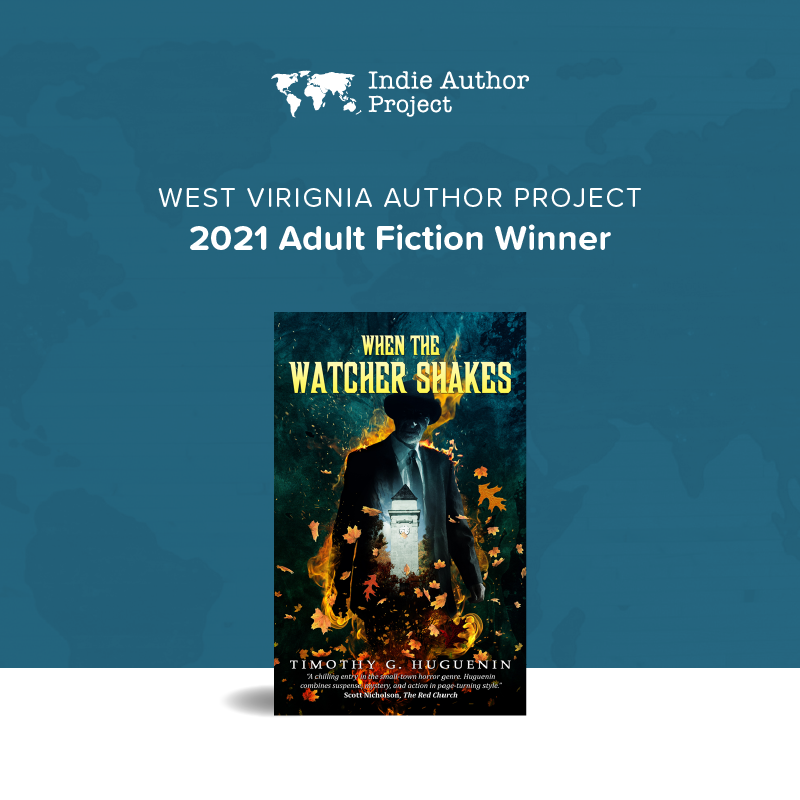 When the Watcher Shakes won the Indie Author Project's 2021 Regional Adult Fiction Award for West Virginia. It will get a little write-up in the Library Journal, which is cool, but even cooler is that I got some prize cash (more on that later).
2022 goals
So here are my new year writing-related goals for 2022:
Finish Gobbler of Fire. In fact I am hoping to do this before January is over. End of February at the latest.

Write another adult novel. Will need to go on a lot more thinking walks before I'm ready for this, but it's been a mild winter.

Write another short story or two. Hopefully by the end of this year I'll be able to scrounge together a short story collection. Wouldn't that be fun.
That doesn't seem like a lot when you look at it all bullet-pointedly, does it? To be honest, though, right now it seems rather exhausting. Maybe I just need another coffee, though.
This last bit isn't exactly writing-related, but it will probably affect my writing. I decided what to do with the Indie Author Project award money (spoiler—I didn't buy a leg lamp): I got a saxophone! It's a Jean Paul AS-400. Though I am familiar with guitar, I have no woodwind experience, and I'm lousy at reading music (nigh illiterate). So this will be a challenge I'm sure. But there are few things that sound better to me than a well-played jazz saxophone solo. Saxophones are one of the most expressive instruments there are. Hopefully youtube is a good enough teacher. I'm quite intimidated to try to learn, and I know I'll never be the next Charlie Parker, but I hope that in a couple years I can get a decent sound out of it.
Well that's it. Another new year. Here goes.
#newyearnewewe #happynewyear #2022 #newyearresolutions #newyeargoals #amwritinggoals #amwriting #amwritinghorror #amquerying #horror #horrorwriters