We all expected the preordered copies of Dim Shores Presents Volume 2 to have been printed and shipped out by the end of 2020. Personally, I also expected that the limited edition run would sell out quickly, or at least before publication date. Neither of those things happened, because nothing happened according to plan in 2020.
It was a rough year, all right?
But, finally, some good news: for all of you who did preorder this exciting new anthology of strange and dark tales, I've received word from the publisher that they're rocking and rolling again. Delays are in the past, awesome stories in your future! I'm sure you'll hear from Dim Shores soon with shipping info, if you haven't already.
And for any of you who thought, "Gee, I kinda wanted that book before the limited run sold out, but it's probably too late now . . . " Guess what? Good news for you, too. They still have copies that haven't been claimed (I'm not sure how many). Only $18.00 gets you this delicious beauty:
Dim Shores Presents is an anthology series spotlighting some of the best new writing in speculative fiction. Weird horror, strange science fiction, and dark fantasy rub shoulders with each other here, weaving a tapestry of uncanny beauty and fearful wonder.

+ 6" x 9" trade paperback
+ Printed on 60# natural paper
+ High-quality print of front cover art
+ New Dim Shores vinyl sticker
+ This edition limited to 150 hand-numbered copies

https://dimshores.bigcartel.com/product/dim-shores-presents-volume-2-anthology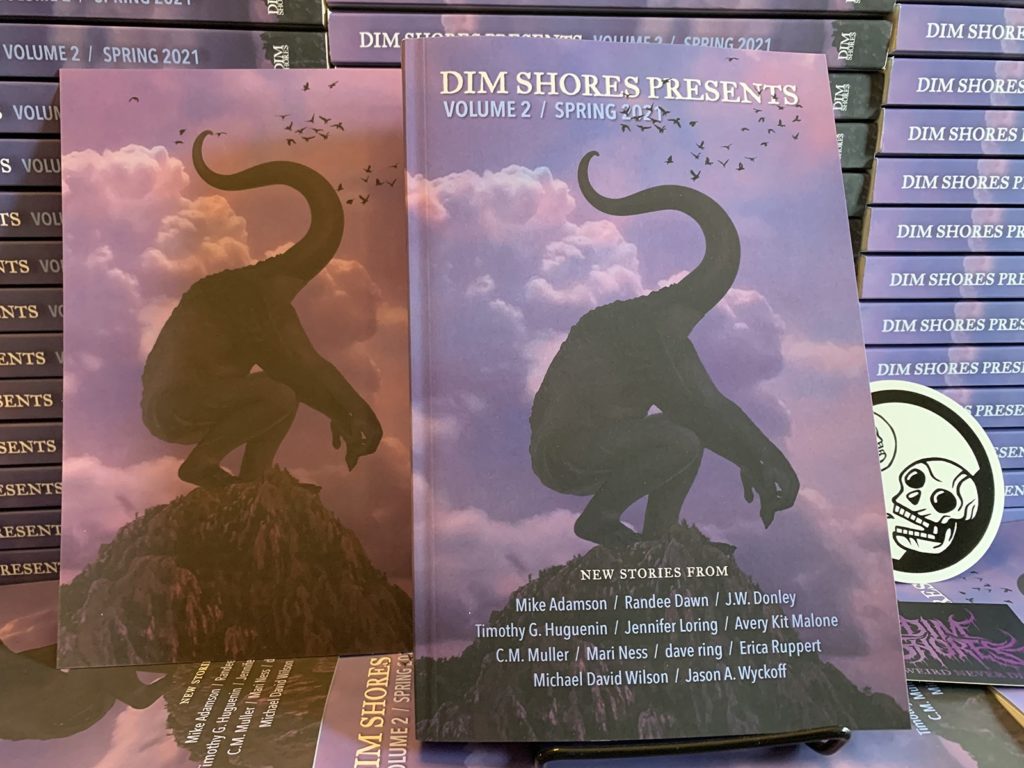 So don't be dumb. Order yours and find out why Dim Shores is one of my favorite small presses in the genre!
#weird #horror #scifi #darkfantasy #smallpress #indiepub #dimshores #weirdart #weirdfiction #weirdhorror #shortfiction dim shores presents vol 2 shipping now