Shortwave Publishing has released the cover for their upcoming antholgy, Deathrealm: Spirits, edited by Stephen Mark Rainey. Loving that artwork by J. Edward Neill! Preorder the paperback or ebook today at shortwavepublishing.com/catalog/deathrealm-spirits/ so you don't miss my story "To Fear and To Rage".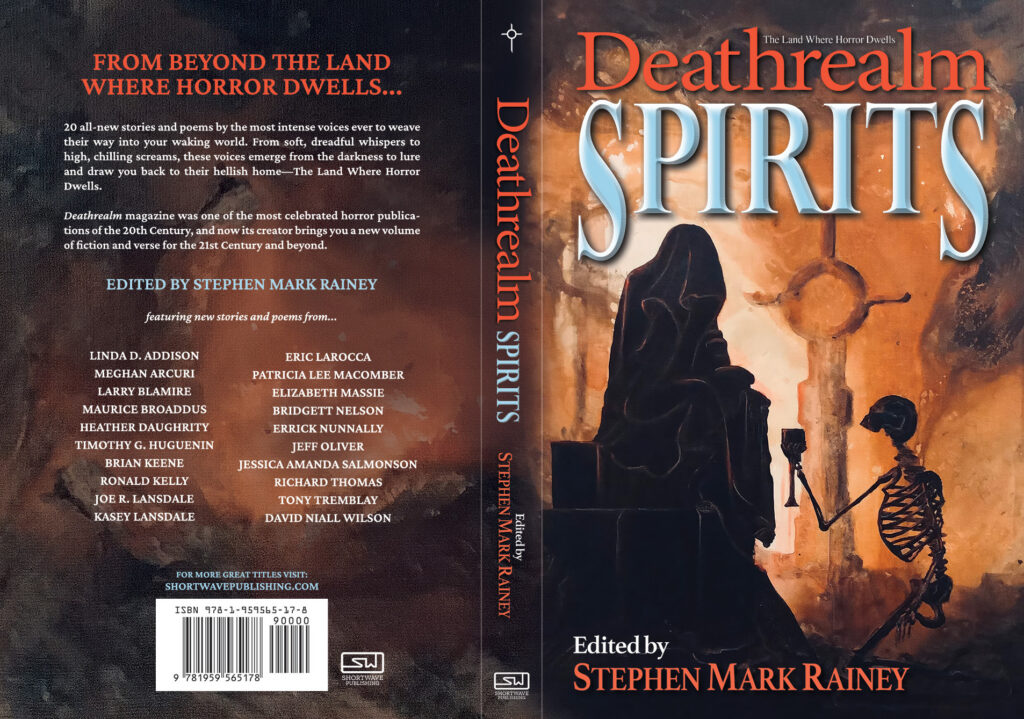 From the back cover:
20 all-new stories and poems by the most intense voices ever to weave their way into your waking world. From soft, dreadful whispers to high, chilling screams, these voices emerge from the darkness to lure and draw you back to their hellish home — The Land Where Horror Dwells.
Deathrealm magazine was one of the most celebrated horror publications of the 20th Century, and now its creator brings you a new volume of fiction and verse for the 21st Century and beyond.
EDITED BY STEPHEN MARK RAINEY
featuring new stories and poems from…
LINDA D. ADDISON
MEGHAN ARCURI
LARRY BLAMIRE
MAURICE BROADDUS
HEATHER DAUGHRITY
TIMOTHY G. HUGUENIN
BRIAN KEENE
RONALD KELLY
JOE R. LANSDALE
KASEY LANSDALE
ERIC LAROCCA
PATRICIA LEE MACOMBER
ELIZABETH MASSIE
BRIDGETT NELSON
ERRICK NUNNALLY
JEFF OLIVER
JESSICA AMANDA SALMONSON
RICHARD THOMAS
TONY TREMBLAY
DAVID NIALL WILSON
FOR MORE GREAT TITLES VISIT:
SHORTWAVEPUBLISHING.COM