Emily and I recently took a quick weekend getaway to historic Berkeley Springs, WV. Located in the eastern panhandle, its warm mineral springs became a huge attraction as our country was started, leading to its founding in 1776 by George Washington as America's first spa. Its original name was "Bath," meant to be a competitor of sorts to the English city of Bath in Somerset. While I've never been to its English counterpart (based on a quick Google, Somerset's Bath looks much more impressive—sorry, Berkeley Springs), we did enjoy our short stay at the historic Country Inn as well as our appointment at Berkeley Springs State Park's heated Roman Bath House. There, for a period of time you can reserve a private heated pool of natural mineral water all to yourself, or to yourselves, if a couple, like Emily and me. Emily chose to wear a swimsuit, but wanting to get the most out of the experience, I of course went in "full Roman," a phrase I came up with when we got there, which I'll leave you to interpret for yourself.
So, for obvious reasons, there are no pictures of Emily and me in the bath. However, I do have pictures of this cool little Edgar Allan Poe figurine we found at Jules Enchanting Gifts just across the street. Check out this neat little guy!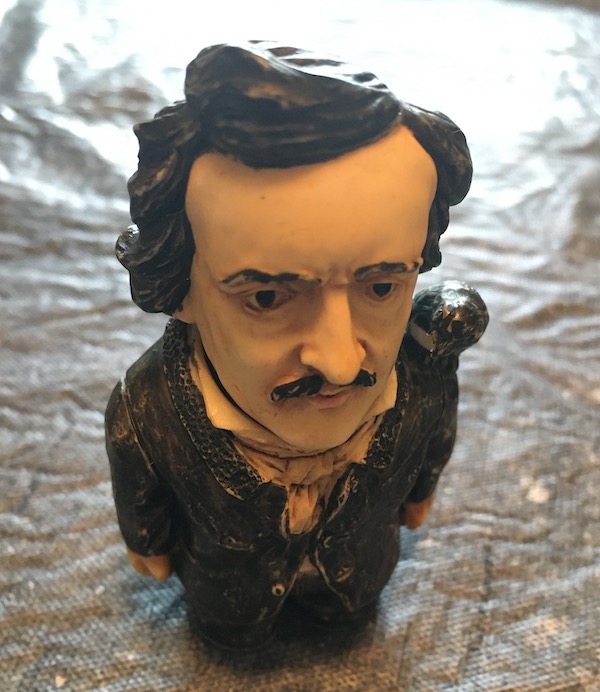 I had never heard of these things before, but this figurine was made by the Harmony Ball Company in England, which makes many of these intricately detailed, painted resin figurines, some of their larger ones being quite pricey. My buddy Poe, however, is a part of their "Pot Bellys" line, all of which sell for $15. The cool thing about these Pot Bellys (and the reason for their name) is that their heads come off, revealing a storage space inside for "tiny treasures," though I can't imagine what they expect me to actually put in there. Many of these Pot Bellys, like Edgar here, have something unique carved into the space—and this is what pushed my over the edge and sealed the deal for me: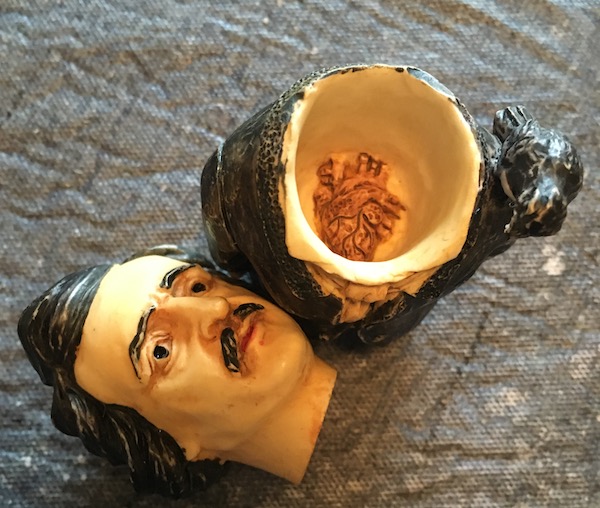 I am not usually that into knick-knacks like this, but occasionally I'll find something horror or writing related that I want to keep me company on my desk. So Poe now has a home on my desk next to the Mothman miniature that Emily bought me for Christmas a couple years ago.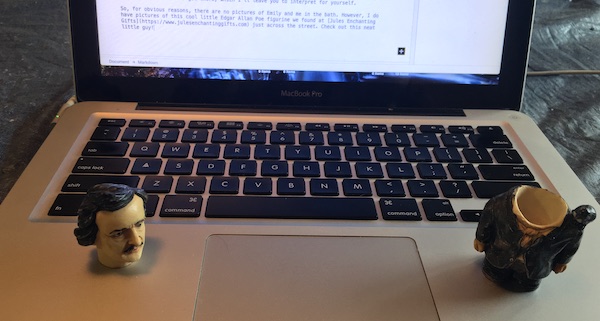 So there you go. Harmony Ball Co. Pot Bellys from Jules Gift Shop in Berkeley Springs (order online from Jules here). They make other famous writers, too, though not as many as I would like. I was hoping to find a Shirley Jackson or Mary Shelley for Mom, but no luck. But they do have owls. And I love owls (my third novel, Schafer—coming soon from Bloodshot Books—features a barn owl named Trilby).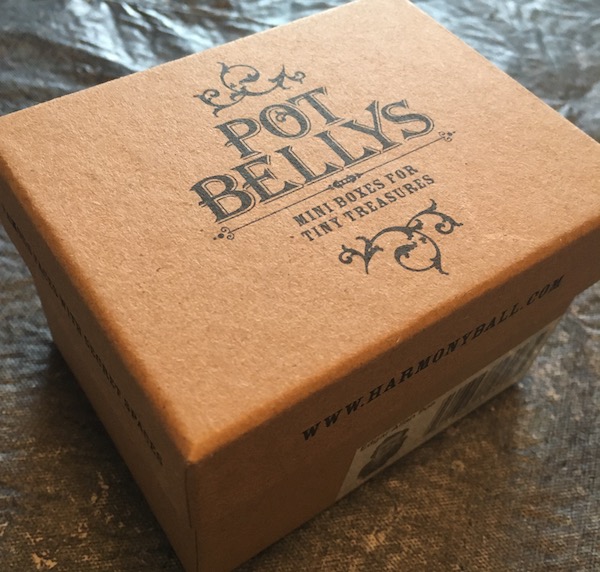 #edgarallanpoe #potbellys #eapoe #poe #poeboy #figurines #writer #horror #theraven #telltaleheart #horrorwriter #berkeleyspringswv