Preorders are finally live for the new weird horror anthology Dim Shores Presents, Vol. 2, edited by Sam Cowan. Visit the Dim Shores webstore and secure your copy of the limited first edition now! Along other fine authors, you'll notice my name down there on the front cover: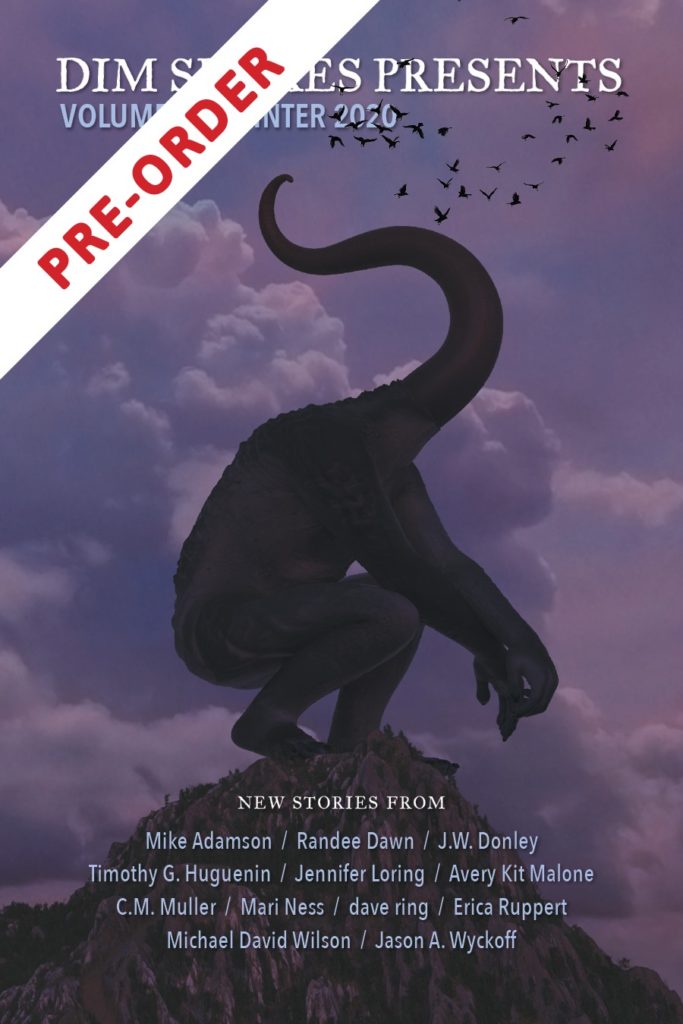 The first edition will be limited to 150 copies, and I'm betting they'll sell out fast, so order yours today.
Only $18.00, this limited edition is a 6" x 9" trade paperback printed on high quality 60# cream paper. Each copy will be hand-numbered, and includes a high-quality print of the cover art, plus a bonus Dim Shores sticker. They are anticipated to ship mid-December.
"AV_NEST.CASEFILE" is a new short story I've written about a strange, dreadful tower built by birds of all different sorts in the mountains surrounding Augustus Valley, West Virginia. This is one my personal favorites, and I'm honored for it to be included in this volume. But even if you read my story and go "meh," trust me: knowing Sam's eye for talent, I'm 100% sure you'll find a new favorite among the other authors contained in this beautiful anthology.
If your trigger finger is slow for whatever reason, don't despair. After the initial 150 copies are sold out, Dim Shores will publish a lower quality version, without the extras, which will be available on their store, Amazon, and the Book Depository. They also plan on releasing an ebook version for those of you who are more honest with yourselves about your limited shelf space.
But I'm sure that if you preorder one of the limited copies, you'll be glad you did. So don't wait before they're gone.
#weirdfiction #horror #dimshores #augustusvalley #wvwriters #wvauthors #weirdwv #books