"The Puddle Girl of St. George" is a unique kind of ghost story set in the beautiful, haunting St. George, West Virginia. I'm very proud that it was selected for publication in the annual Anthology of Appalachian Writers.
Even though this volume (Vol. XI), featuring guest editor Karen Spears Zacharias, was technically published back in June, I've been waiting to post about it until there was a working link for ordering the book. For some reason there was a listing for it on the Shepherd University Online Bookstore for a while now, but it has been listed as Out of Stock until this month. Well, better late than never—you can order it now!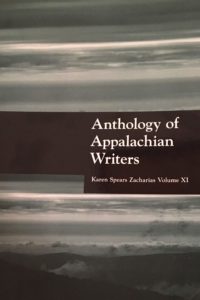 From Shepherd University's website:
The Anthology of Appalachian Writers, supported by the Shepherd University Foundation and the West Virginia Center for the Book, is a publication that encourages a long-established tradition of storytelling, love of language, and creative expression associated broadly with the area of the country known as Appalachia. Though the principal mission of the anthology is to provide a venue for publication of new writers, it also provides a collection of literature and scholarship that contributes to an understanding and appreciation for the region. Poetry, fiction, memoir, heritage writers, as well as new voices appear in each annual volume of the anthology.
The Senior Managing editor of this annual anthology series is Dr. S. Bailey Shurbutt. As I mentioned, the guest editor is the 2018 Appalachian Heritage Writer-in-Residence, Karen Spears Zacharias. I am honored to have work in this volume along with many writers more talented than myself. My friend Marc Harshman, the 7th Poet Laureate of West Virginia, has four poems in this book, so it is worth getting for those alone.
I hope you enjoy "The Puddle Girl of St. George". There's a bit of true WV history mixed into this spooky, folk-tale-like story. I'll let you figure out what's what.
While we're talking about ghosts—as we head into snowier weather, maybe you need a winter-appropriate haunted house book to curl up with with a mug of hot cider. I got you covered. Check out my novel Little One. The Horror Review says, "It will chill your bones and warm your heart!"