This past Christmas, my brother- and sister-in-law got me the biography of George Orwell by Gordon Bowker that I had been wanting. Nineteen Eighty-Four has been one of my all-time favorite books since high school. It was the first assigned reading in High School that I remember actually liking. I devoured it then, and I have returned to it multiple times since. I considered George Orwell, whose actual name was Eric Blair, a favorite writer, though I had not read many of his works. Along with Nineteen Eighty-Four, Animal Farm was required reading in high school. Sadly, nothing else from Orwell was assigned, and I did not get around to reading more of his books until a few years ago, when Emily got me a two-in-one volume that includes Homage to Catalonia and Down and Out in Paris and London, plus a little booklet from Penguin that collects a few of his most famous essays. These works greatly confirmed my love for his writing, and created a greater desire to learn more about the writer.

Emily thinks I'm Stuffy McStufferpants for getting excited about a big fat biography. But I find a lot of inspiration reading biographies of great writers. Though it is disappointing to learn about my literary heroes' flaws (and Eric Blair was flawed, to be sure—and don't even get me started on Hemingway), I found the biography fascinating and illuminating. (For you less stuffy people, here's a quick little piece by Bowker that was published in the Washington Post a few years ago: "Five myths about George Orwell", and you can always learn a lot from Wikipedia.) I was reminded of how little of Orwell I've actually read. I decided I would make 2020 my "Year of Orwell", and try to read all of his novels and major nonfiction books. In fact, since he only lived to age 46, he only wrote nine books, not including his collected essays. A quite achievable goal. I also want to read more of his essays—that's where he really shines, at least judging based on what I've read already—but first I want to tackle the longer stuff without worrying about tracking down every bit of short nonfiction or having to decide what counts as important enough for me to read.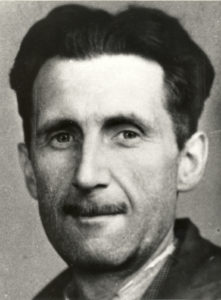 Since finishing the biography, I've finished Burmese Days, Keep the Aspidistra Flying, and Coming Up for Air. I will have to take a break to fit in some more horror, especially since HWA active members vote soon on the Bram Stoker Awards(R) nominations, as well as February being Women In Horror Month.
Soon I'll return to my Orwell feast. I'll probably hit up either A Clergyman's Daughter next. That and The Road to Wigan Pier are the only two I have not yet read. I still plan on revisiting the ones I have read, but only after checking the formerly unread books off my list.
I am enjoying this immensely. Having already a familiarity with Nineteen Eighty-Four, it is interesting to see little bits of that book's DNA in everything he wrote leading up to it. It is, however, important not to limit your understanding of him to a single book, even if it is his masterpiece. People are complicated and should not be defined by a single moment. I encourage you to broaden your understanding and try one of his less popular books.