Hot off the digital presses at The Dark Magazine, today I read Michael Wehunt's new story, "The Pine Arch Collection".

A tribute to found-footage style horror films like The Blair Witch Project, the story is presented as a thread of emails among filmmakers and a mysterious horror film group calling itself Pine Arch Research, which is "based—locally." A representative of the aforementioned group emails filmmaker Aly Duarte an invitation to submit work to the Pine Arch Collection, a horror film series to be later uploaded to YouTube, "Cult status guaranteed." Initial footage shows Aly's house in a fog with strange black arms reaching up to her bedroom window. Aly is spooked by the invasion of  privacy, but like any not-famous artist, she is flattered by the solicitation for her work. She passes the email on to her friend and colleague at Georgia State University, Bobby Power. Bobby is also wary of their tactics but is intrigued until seeing the video, which gives him an understandably dreadful feeling.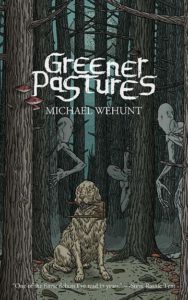 Wehunt's characterization and pacing are flawless, and he paints creepy images that are original—but, to quote Pine Demon, "there is—a familiarity." This is one of the best short stories I've read yet this year. No sense in any further synopsis. You have the time to read this for yourself, and you have the internet. Stories on The Dark are free to access.
Michael Wehunt is fast becoming one of my favorite contemporary writers. Late to the club as I usually am, I just started reading his debut short fiction collection, the highly lauded Greener Pastures, originally published in 2016 by Shock Totem, now with Apex Publications. Wehunt is from north Georgia, and his roots inform his work in that homegrown, poetic way that few places like the Southern Appalachians can.
Several of his stories appear in past issues of The Dark Magazine, so it won't cost you a dime to go back and see what you've been missing. (While The Dark is free to read online, you can support them by paying for the ebook versions of their issues—links on their website).
A quick tip, before you run off: pay attention to the email header information. You got it? Ok. Now go read some Wehunt. Cult status guaranteed.